Portrait Studio Damascus
---
10/11/11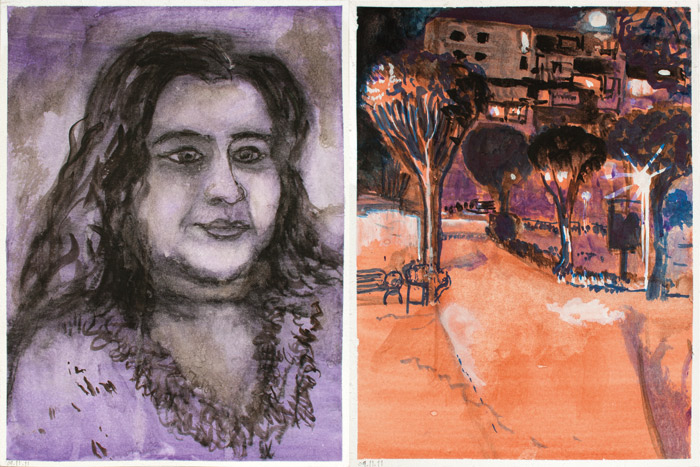 Could you please paint my wife? . . Most of the people in this park are Christians, we are not, we live far away but we like it here . . . this is my son, my daughters . . . Assad means happy . . . Why do you make her look so fat? What's this, her cheeks? . . Here drink this, it's wine from Scotland with coke . . . I am a florist, best of all I like making flowers for weddings . . . What do you think of the situation here? . . . everybody wants it to be like England here, we want a nice modern country . . .
09/11/11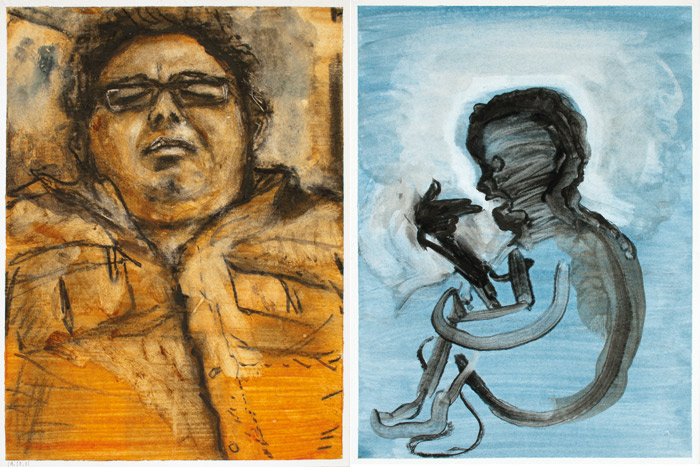 I did not dream. THIS is a nightmare . . . I want my mum . . . Give me Julia Roberts . . . Give me Nicole Kidman . . .
08/11/11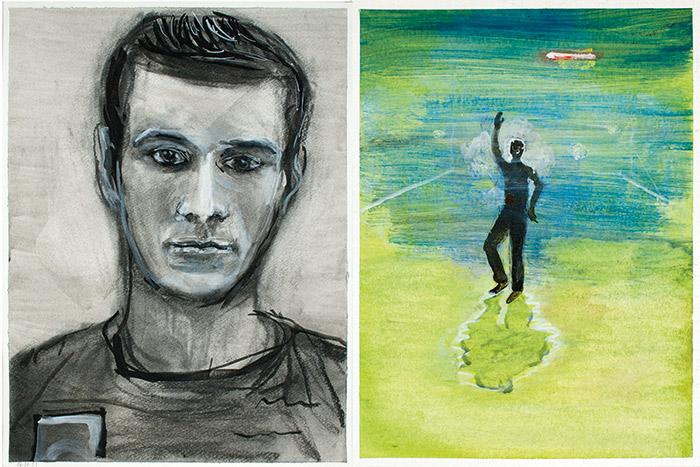 . . . Kifag? Mieh? . . I started working as a security guard one year ago. . . Paint me in black and white only. I want you to use charcoal, no colour! . . Make me look sweet, hellou! . .
06/11/11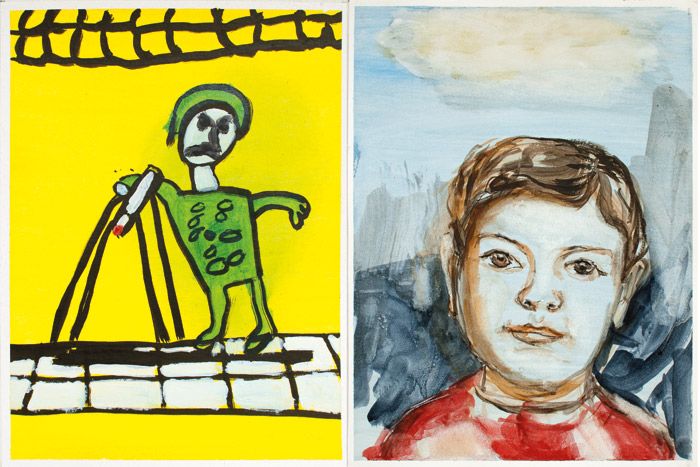 Il dit que ça lui rassemble beaucoup. . . que c'est comme avoir encore un autre frère . . . Regarde son dessin, il a un grand imagination. . .
05/11/11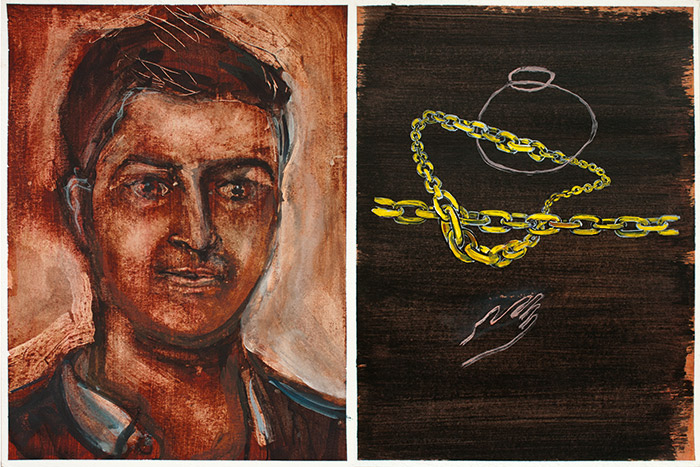 I am a young Palestinian activist. I deal with refugees and human rights – a lot of things. . . I was born in Kamsheh Camp near Damascus. . . Syria has been a very nice country to me – this does not mean I don't want to fight to get my independent state. . . I tried to get a scholarship to get an education. No country in the world gave me this chance.
04/11/11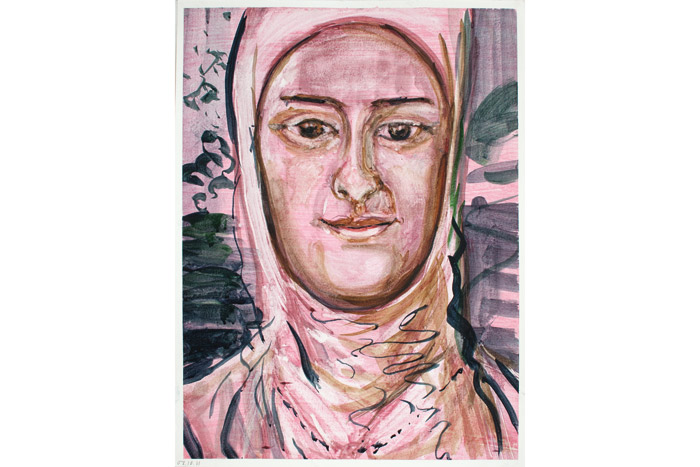 I am studying Interior Design here in Damascus. . . I would like to open an interior design office and do further studies, then I would like to settle down in Australia. . . I just love it there; because I've read stuff . . . a place near Adelaide where the people live underground. . . My parents are Arabic teachers. We used to live in Saudi Arabia in a place near Bahrain. I really miss it. I guess I am homesick . . .
03/11/11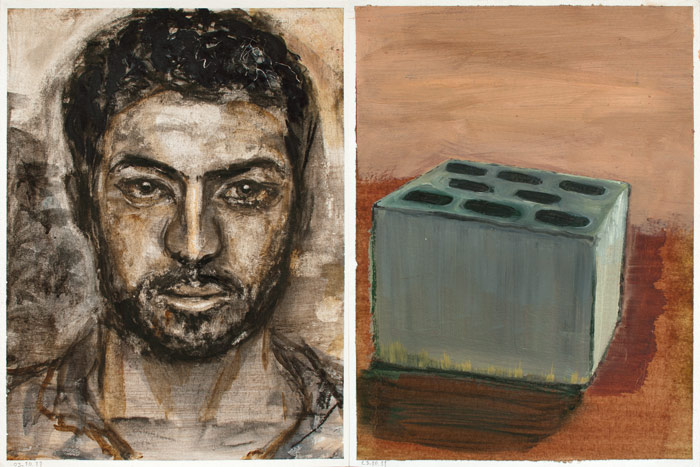 No I did not have a good weekend! You know where I live? I am from Muadamia. . . I live with my parents and 4 brothers and three sisters. My mother is a housewife, my father a free labourer . . . Here! For me this is the best place in Damascus . . . My dream is to study political science in Beirut. I so love this, but it is difficult. You need very good grades.
28/10/11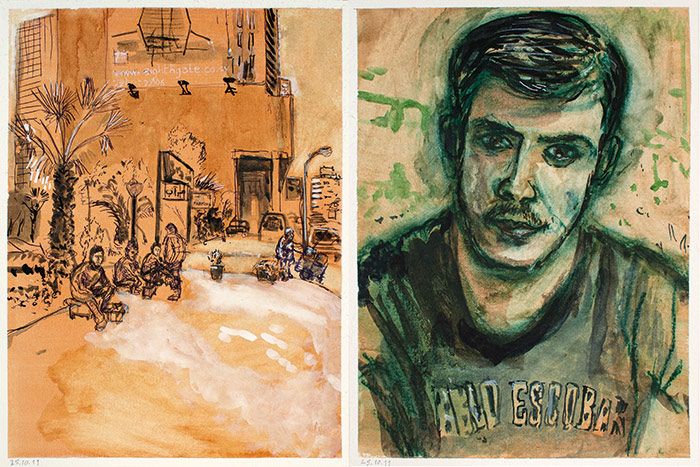 I am 21 years old. I come from Aleppo. There is no work there. Here it is a little better. I earn about 150 $ a month. I am married. My daughter is one and a half years old. I have no house. My wife and child are in Aleppo. My dream is to have a house in Aleppo . . . Do you have shoe shine boys in England and Germany?
27/10/11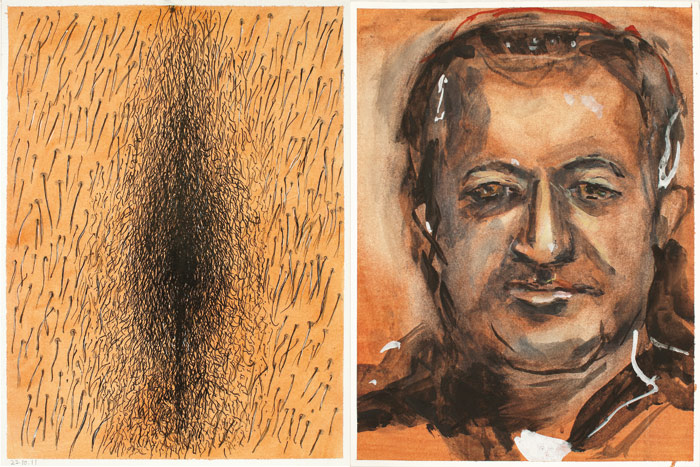 My name means extreme position . . . I learned photography and cinematography here and in Yerevan. . . When we go to Europe the curators they say to us, "Let's talk about Islam" or "women's rights" or "the politics of your country." They keep doing this, then after a few years they say this is what art from the Middle East is about. Fuck this! I want to make work about the market or sex . . . How did I know something was going to change? It's like maths, you watch the way people move, how they cross the street. . .
26/10/11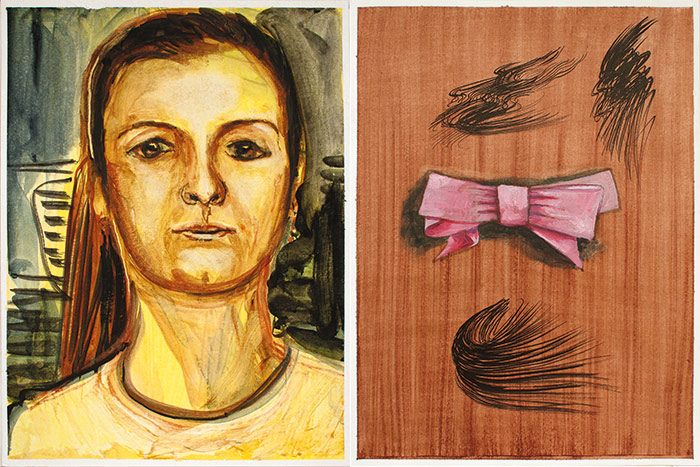 I was born and grew up in Damascus. I like to travel but I love Syria. My dream is to go and study in France but I don't think my parents will let me, they will be too sad.
25/10/11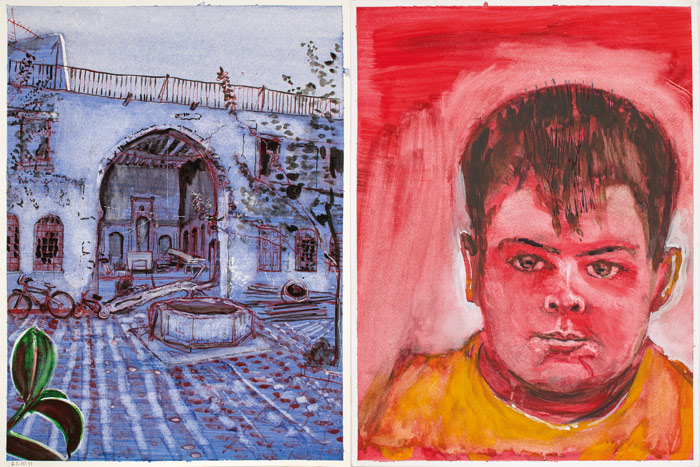 Paint me in red! . . I live in Bab Touma. My dream is to be a painter. I don't like school. My favourite place is Sadnaya. I paint with my friend. I like playing football. . . When the postman comes to our house he never knows which door to use.
24/10/11
I am from Jourba. I have 13 children, 4 girls and 9 boys. Mohammad is from the middle, he has to help me. I will come to the exhibition.
Voices behind my back:
- So this will be on facebook tomorrow?
- What are you doing in Syria now? Did you come to see the war?
- Normally there are more women here but today there was some
trouble and many could not get in to Damascus.
- This is a Russian artist, he is OK.
23/10/11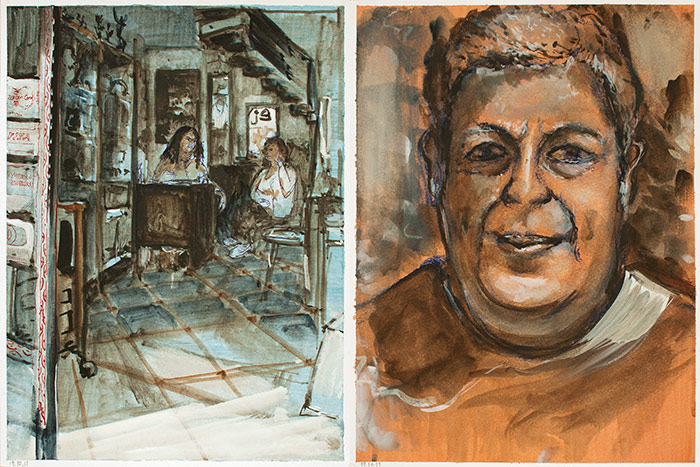 I started work as a goldsmith like my father. We have something in our blood. A cousin, born in Beirut who immigrated to America came to visit me, it was the first time we meet and you know what? He is a goldsmith . . . I just bought myself a new digital camera. On Saturday I got up at 5:00 because I want to photograph the sunrise. I went onto the roof but then I thought the neighbours will see me so I walked to the Umayyad Mosque but the security were there. I went somewhere else, same thing. In the end I just thought forget it and went back to bed.
22/10/11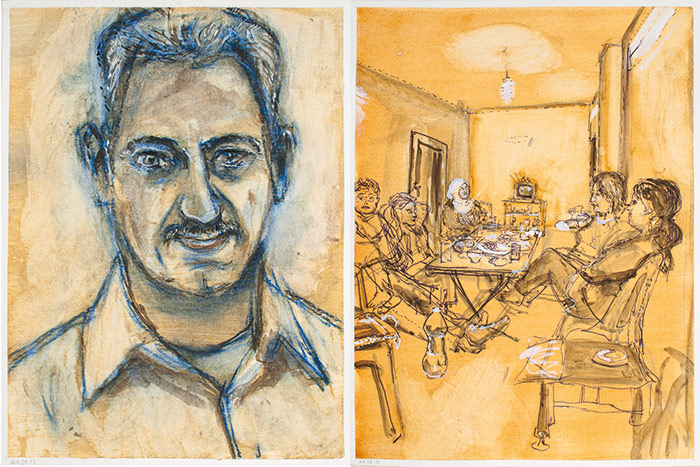 15 years ago, after my mother showed me many women, I chose my wife. We've been in this apartment for a few months but we're still waiting for doors and furniture. The tiles, electricity and plumbing were very expensive . . . during the last election, when she went to vote, my wife put her name on the form and the people there said, 'that's ok you can go now, we will do the rest for you.'
21/10/11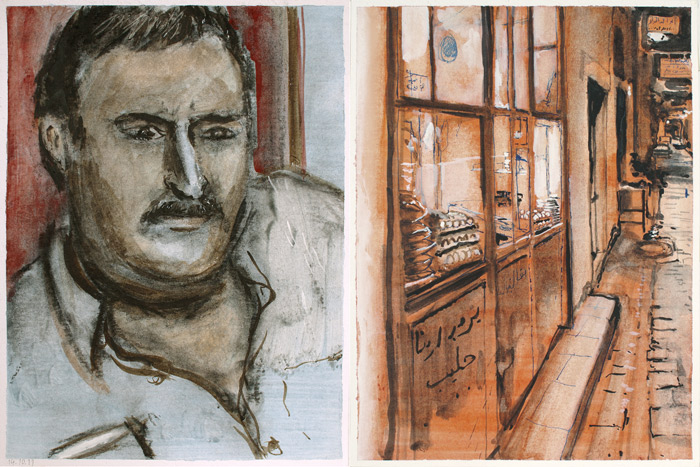 Yes, I am from this area, I was born here, my parents too. It is a good place, very quiet. I have one son and two daughters, they are big . . . this is madame, she doesn't want to be painted, she says she has no time; she has work to do. Here! she says you can paint this baby, my niece. . . I sell eggs, salt, milk, labneh and gas. It is a small supermarket, but beautiful . . .
20/10/11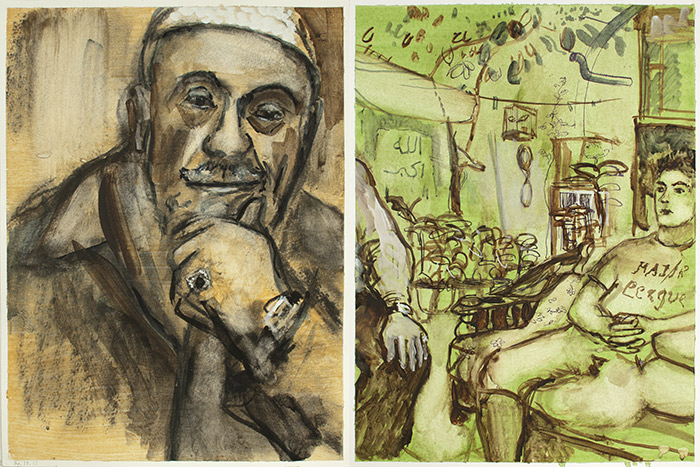 . . . take some lemon from the tree and put it in your coffee . . . hmmmm! Vitamin! Very healthy! . . It is an honour for me that you visit us. I want to look good in your portrait. . . look, make the ends of my moustache point up. . . You know this poster? I love, love, love, love him so much!
15/10/11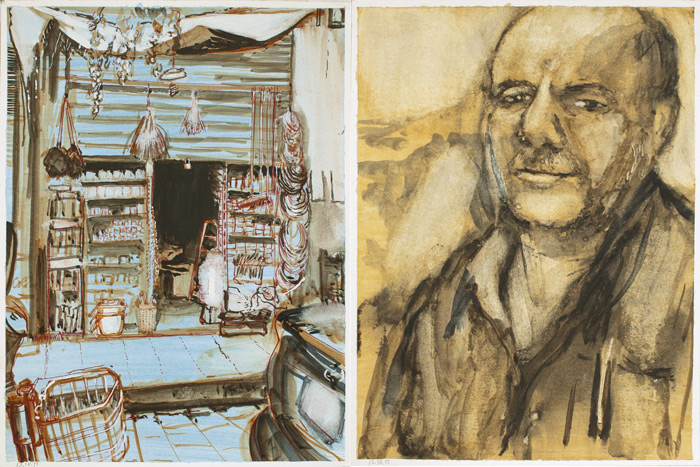 You want to paint this shop? Why? What do you want to paint? You want to paint this can of paint, this string, what? Shou? . . OK, halas, go on, paint. . . Yes you can draw me but please wait here half an hour. I will go to the mosque to pray, then we will drink coffee, then you make my portrait. Here, eat this apple . . . I am from Aleppo . . . please make my cheeks thinner . . .
14/10/11
You are not married? Oh, then maybe we can get married! . . Do you like kibbé labnieh? I will cook kibbé and yalangi for you . . . I don't like politics, I just want this situation to stop. . . This is a picture of my boss. I love my boss, look he is so handsome.
13/10/11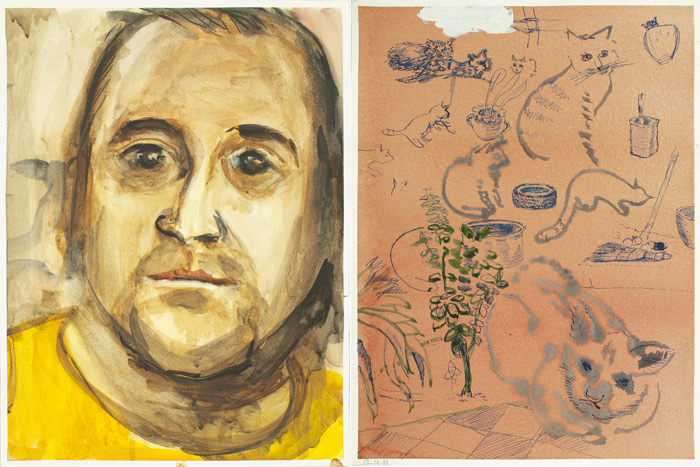 I only speak French with native speakers. . . I like Shakespeare. . . you can always find work here. . . the situation is difficult but I don't think about politics . . . Is the food good? . . What are you thinking about? . . This is my family; I have 4 blond, 4 coloured, one black. A week ago I lost the best and strongest, it was blond and male. One, she has a very French face . . . Qu'est ce que tu pense de ma vie?
12/10/11
You live in Germany? Ich bin der Deutsche Fahrer . . . I think I know 30 German words . . . we don't have so many cars now, it's difficult, there are no tourists. . . I am from Soueida, 7 million apple trees . . . I have 8 brothers and 3 sisters, one brother is an artist like you. We can visit him if you like . .
12/10/11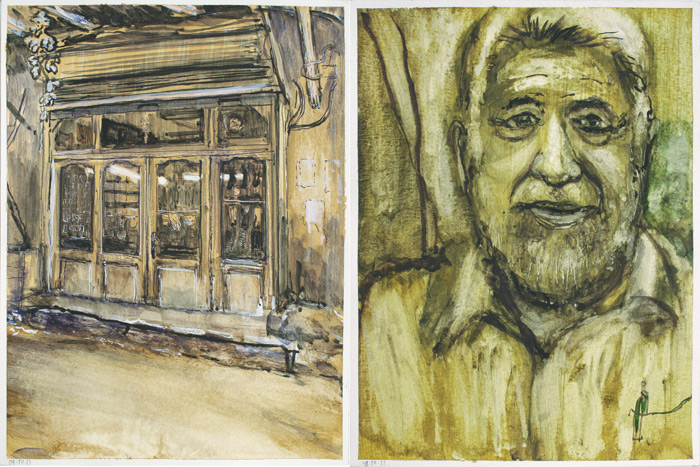 Lots of men with beards and hats, on the other window historic photos of Damascus that predate T.E Lawrence and in which the city looks strangely modern. Inside a tailor's shop, yellowed paint, strip lights and stuff piled everywhere immobilising the two available chairs: . . . "in Damascus we like big families . . . I always lived here, my father lived here, my grandfather lived here . . . You forgot the button on my shirt and the pen, don't forget to paint the pen . ."
11/10/11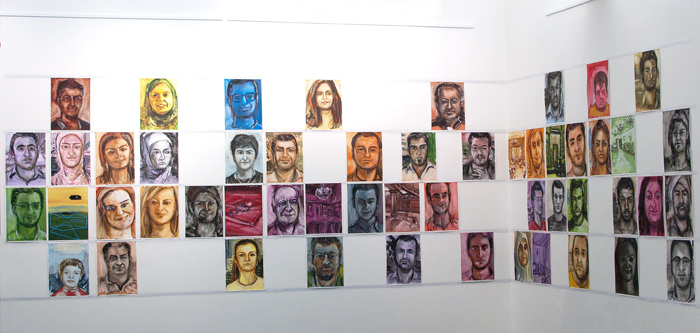 As the works are completed they go on the walls of the British Council's exhibition space showing a work that is continually evolving. This is the situation approximately half way through the residency.
11/10/11
During the past two weeks the portrait studio was in a leafy alley outside the British Council in Shaalan. For the next few days I will be working in Sarouja, a rambling, old, traditional Arab district just outside the city walls.
10/10/11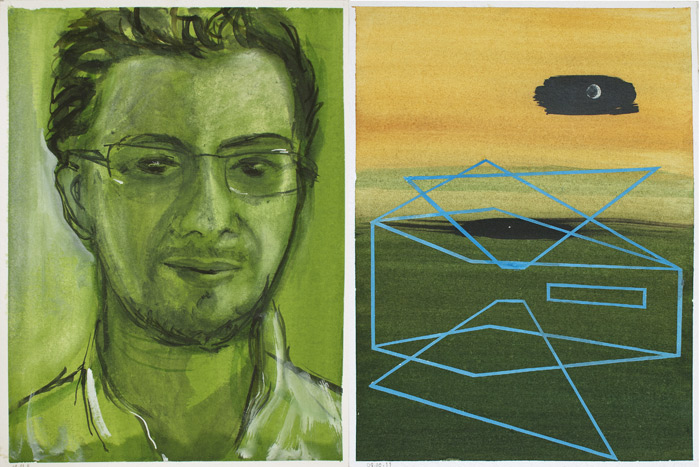 Actually I grew up in Saudi Arabia . . . in Medina you can still feel the spirit of Islam . . . I just graduated from my university. I would like to do a Masters degree abroad; maybe in America . . . I want to go to a top ranking university like Yale.
03/10/11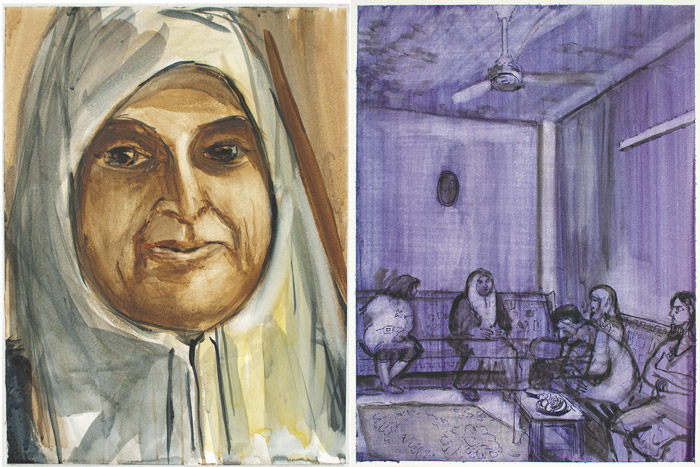 I am a maths professor; my husband is a mechanical engineer. We went to Libya 11 years ago, now we have been here for one year . . . we cannot go back to Iraq . . . we hope to go to Canada, because of the girls, this is our last chance. A refugee is not acceptable anywhere . . . thank you so much for spending your time with us, we are sorry you cannot stay longer.
30/09/11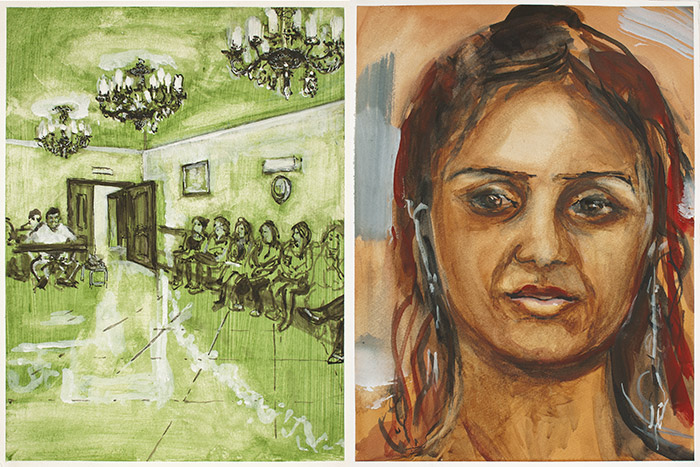 J'ai commencé à chanter dans la chorale parce que j'avais envie de sortir, de voir les gens. . . C'est logique que le mot arabe pour l'amour commence avec la lettre ح . . . pour le prononcer il faut complètement s'ouvrir, ça vient de l'intérieur, essaye de le dire!
29/09/11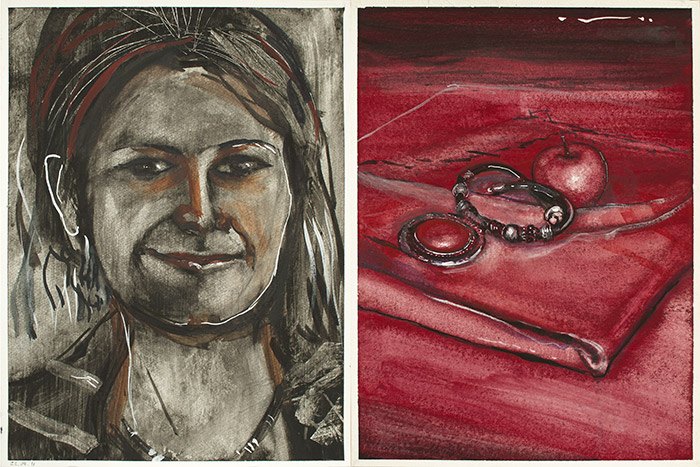 . . . my speciality is landscape urbanisation. Renzo Piano is my favourite Architect but I like Saha Hadid of course. I prefer Foster to Rojers . . . he can even make publicity out of his mistakes . . . I have lot's of jewellery like this. . . I smoke pipe. You want me to bring my pipe?
28/09/11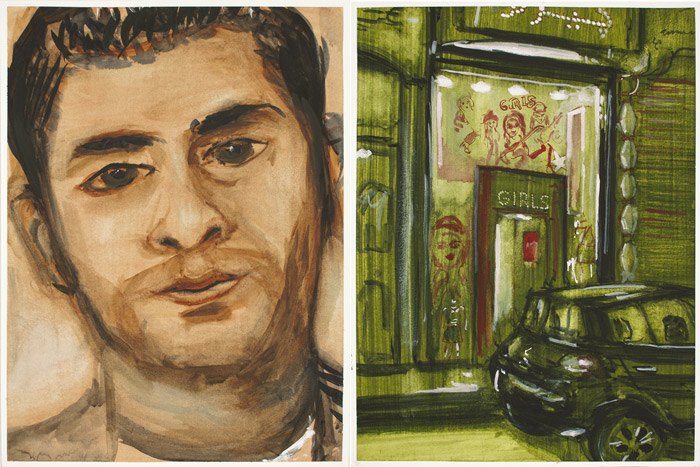 I was born here. I started my company 5 months ago, we're just about to open another shop actually. I was in Dubai for 4 years, that's where I got the idea to start my own business here. Dubai is amazing, people from all over the world there. The prince, Sheikh Hamdan, he is really taking care of his people. . . I would have preferred it if you'd painted my shop pink . . .
23/09/11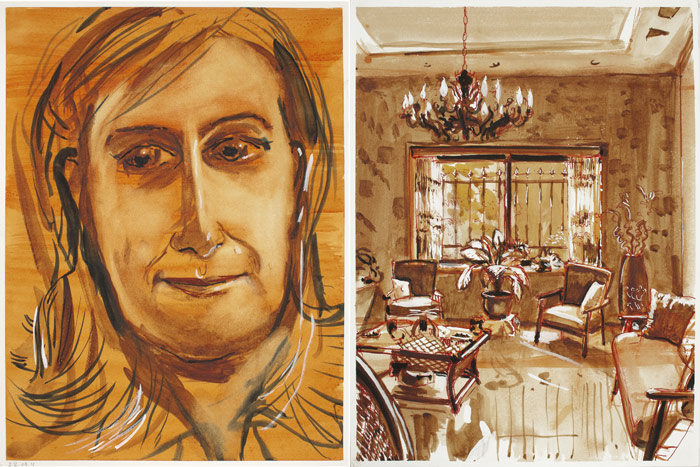 Have you been to Ma'loula? It is a very nice place for painting. . . You were going to say "as salaam aleikum" to my husband before he told you his name, weren't you! . . . In Saydnaya there is also a big monastery but Ma'loula is more beautiful.
22/09/11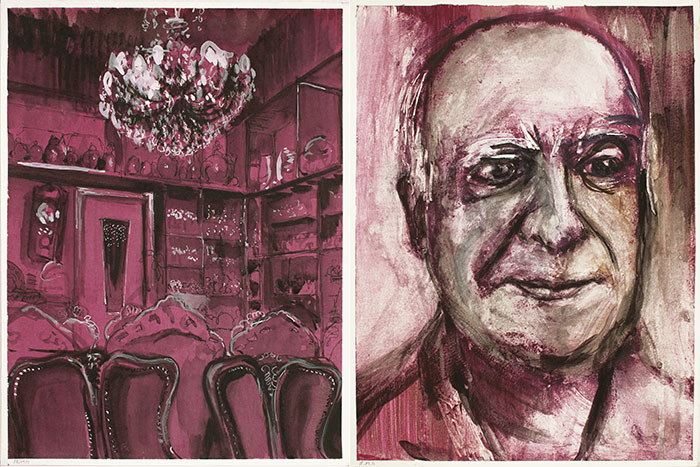 In 1956 my plane was destroyed by the British Air Force . . . after that I had to go home, then I went to Russia to continue training . . . I have travelled a lot . . . best of all I liked Germany . . . call me if you need anything, in this house you have a real friend.
21/09/11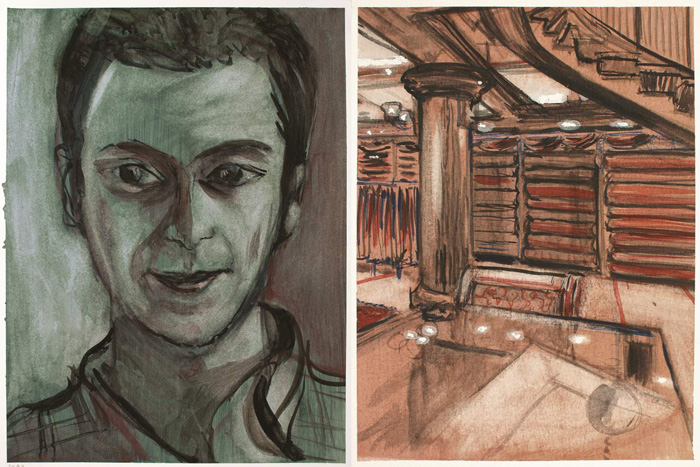 I have just finished my studies . . . now I have to decide if I want to be an architect or if I will go into my father's business. It is a nice business.